PAK'nSAVE's iconic big, yellow stores put the super into supermarket shopping for Kiwi consumers.
If we've learned one thing from the global pandemic, weeks of lockdown and heightened economic stress, it's that we've taken supermarkets for granted.
Before COVID-19, supermarket shopping was just another unavoidable part of the weekly routine, along with work and household chores. But queuing for basics such as flour has given us plenty of time to reflect on the essential service the stores provide.
We took for granted that supermarkets were open, their shelves bulging with every household need, from early morning until late at night. But no more. Having had our access to them curtailed has opened our eyes to the wonders of their supply-chain logistics and dedicated staff, whose hard work keeps the shelves stacked and freezers full.
But as anybody who has ever squeezed every avocado on display to find one that's ripe knows, it takes more than a wobble-free trolley to make a truly great supermarket.


So as part of our mission to help consumers make the right choice, Canstar surveyed 2512 Kiwi supermarket customers to rate their experiences.
Overall the following supermarkets: Countdown, Four Square, FreshChoice, New World and SuperValue were compared on:
Overall Satisfaction
Customer Service and Accessibility of Staff
Deals and Specials Available
Freshness of Fruit
Vegetables and Meat
Layout and Presentation of Store
Value for Money
Variety of Products
Coming out on top at the check-out, winning Canstar Blue's award for Most Satisfied Customers | Supermarkets, was PAK'nSAVE. The home of Stickman was the only supermarket in our survey to receive an Overall Satisfaction rating of Five Stars. It earned additional Five Stars for Deals and Specials Available, Value for Money and Variety of Products.
Also scoring well, New World, Countdown and SuperValue each achieved a Four-Star rating for overall satisfaction, thanks to strong showings across all categories.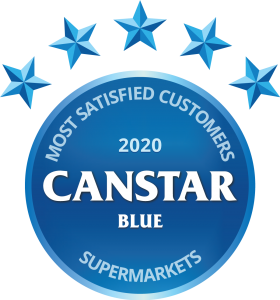 Checking Out Supermarket Shoppers
As part of our survey, we took the time to delve a little deeper into New Zealanders' supermarket habits, with some surprising results.
While the majority of our respondents said value for money was the most important driver of their satisfaction with a supermarket (27%), only 10% cited the freshness of the produce. And just under half (45%) said they don't wash their fruit and veggies when they get it home. While that's not necessarily a problem if everybody's just squeezing avos with their inedible skins, just imagine how many people might have squeezed your peaches!
But it does seem that many of us prefer to keep supermarket shopping a solitary experience, as over a quarter of those in our survey (26%) said they avoid talking to people they know if they see them in the aisles.
Shelf-satisfaction at PAK'nSAVE
It's been 35 years since PAK'nSAVE opened its first store, in Kaitaia. Since then, the big yellow supermarkets have become landmark fixtures in our towns and cities, and the brand has become as iconically Kiwi as many of the brands stocked on its shelves. Thanks to its no-frills approach, great value for money and helpful staff, it really does put the super in supermarket, as proven by its 2020 Canstar Blue's Most Satisfied Customers Award. To find out the full results of our survey, just click on the big button below.
Compare Supermarkets for free with Canstar!
Enjoy reading this article?
You can like us on Facebook and get social, or sign up to receive more news like this straight to your inbox.
By subscribing you agree to the Canstar Privacy Policy