It's time to paint the town red, or any other shade you wish, because PPG Paints has won Canstar Blue's Most Satisfied Customers Award – House Paint 2020 with flying colours.

There's no denying painting can be a messy business. But it can also be hugely therapeutic. Once the prep work has been done, the masking tape applied and the drop sheets laid down, there's something cathartic about rollering or brushing on the paint and watching your room's transformation. Your hard work leaves you with a sense of satisfaction, and your room fresh, clean and bright.
The hardest part (other than stripping back years of old enamel!) is often choosing the right paint for the job. Thanks to TV shows and glossy magazines, there's plenty of inspiration, but the huge range of paint brands and colours can be confusing. While Canstar isn't in the business of providing interior design tips, we can help by recommending the right paint manufacturer.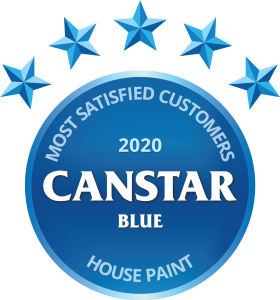 Canstar Blue canvassed the opinions of 887 Kiwis who had purchased and used house paint or stain in the last three years to discover their views on the different paints on the market. We asked them about the paint they'd used to get their response on a range of factors, including the paint's quality, durability and ease of use.
With flying colours, PPG Paints won Canstar Blue's Most Satisfied Customers Award – House Paint, winning 5 stars for overall satisfaction. PPG Paints also scored a smooth 5 stars for ease of application and value for money. In the survey, two other paint brands were also awarded 5 stars: Resene for ease of application, quality of finish, durability and range of finishes, and Dulux for ease of application, quality of finish and range of finishes.

The research into New Zealand's Most Satisfied Customers of house paint revealed other intriguing details about our renovating habits.
It appears the popularity of DIY reality-TV shows is inspiring Kiwis renovating their own houses. Home makeover shows were credited by 24% of respondents for inspiring renovations, particularly among young women: 42% of 18- to 29-year-olds, and 33% of women, referenced reality-TV shows as an inspiration for their work. Only 17% of men and 8% of those aged over 70 credited television shows as an influence on their renovations.
The research also showed Kiwis have become big DIYers: 80% of respondents do their own painting, as it's cheaper than hiring a professional. Surprisingly, 45% of respondents said they did their own painting because they enjoyed it. More tellingly, 25% of those who responded to our survey didn't bother with any prep work before slapping on the paint! A decision that saves time in the short-term, but which can lead to a poor finish, and paintwork that doesn't last as long between redecorations.
If you're considering redecorating, don't forget your prep work, which begins by checking out Canstar's ratings for Most Satisfied Customers – House Paint 2020. Just click on the button below:
Check out our House Paint 2020 Star Ratings here!
Sign up to receive more stories like this straight to your inbox.
By subscribing you agree to the Canstar Privacy Policy