Don't let the grass grow underneath your feet! Get busy with a Ryobi, the winner of our award for Most Satisfied Customers | Lawn Mowers.
If there's one defining sound of the suburbs, it's the drone of lawnmowers on a weekend. Yes, the quarter-acre section has been subdivided to near extinction in most big cities. However, most homeowners still have a section of grass to mow, even if it's just a strip of berm. And if you have grass, you need a lawn mower.
But what type of lawn mower? If you've a paddock to mow, you might want to consider a ride-on mower, or even a few sheep! For a large section that you want to look immaculate, a large, powerful petrol or electric model is a good choice. And if you've a small, postage-stamp size area of grass, or just the bit at the end of your driveway, you'll be able to get away with a lightweight, cheaper model.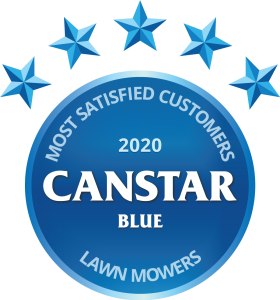 Once you've decided on a type of mower, you'll need to choose which brand to invest in. And this is where Canstar can help. In our eternal quest to inform Kiwi consumers on the best brands in the marketplace, we've recently researched and awarded our Most Satisfied Customers | Lawn Mowers 2020 award. From all the mowers on the market, we singled it down to three brands: Ryobi, Lawnmaster and Masport.
Coming out on top is Ryboi. Of the brands of mower we rated, the Japanese tool manufacturer was the clear winner. Coming close to a clean sweep, it scored 5 Star ratings across all categories, except for Maintenance/Servicing, for which it earned 4 Stars. While Lawnmaster and Masport both scored extremely well, too – each with a mix of 4 and 5 Star ratings – Lawnmaster secured two more top marks than its competitor.

To achieve its win, Ryobi scored highly across all drivers of customer satisfaction. These were rated in order of importance by those in our survey, with the top three being:
| | |
| --- | --- |
| Drivers of satisfaction | |
| Reliability and Performance | 1st |
| Value for Money | 2nd |
| Quality of Grass Cut | 3rd |
While conducting our survey, we also took the opportunity to learn a bit more about our respondents' mowing habits. And from their responses it's clear we are a nation of lawn-lovers!
Close to a third of people said that they covet their neighbours grass, and even more put the time and effort into making sure their lawn areas are equally impressive. Half of those in our survey enjoy spending time with their lawn mower and take pride in the appearance of their lawns, while a quarter go the extra effort to fertilise and tend to their grassy areas.
If you're a lawn-lover, you can check out why Ryobi mowers are a cut above the rest, plus the full details of our lawn mower award, by hitting the big button below!
Check out Canstar's latest lawn mower award!
Enjoy reading this article?
You can like us on Facebook and get social, or sign up to receive more news like this straight to your inbox.
By subscribing you agree to the Canstar Privacy Policy