If you're looking for the best self-storage provider, let Canstar Blue's 2020 award for Most Satisfied Customers | Self-storage be your guide. It's packed with facts you need to know and our 5 Star winner:
National Storage!
When it comes to where you live, location, location, location might well be a top concern. But storage, storage and self-storage is a close second.
The immaculate pictures that accompany real estate listings, or those that grace glossy lifestyle magazines, all have one thing in common: no clutter! Most real family homes are stuffed full of stuff. And it all needs a place to live. Linen needs a linen cupboard, books need shelves, and kids toys need toy boxes. And big boys toys, ideally, need a garage or shed!
But what happens when you run out of storage room? Or when you need to impress potential buyers and convert your home into a pristine palace of Zen minimalism. That's when it's time for self-storage!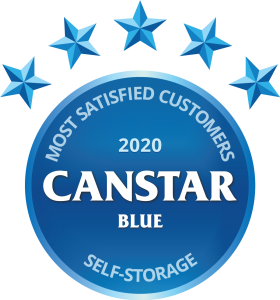 According to Canstar Blue's latest research, the top reasons why people use self-storage facilities are:
Moving/between homes: 45%
Run out of space: 29%
Overseas travel: 12%
Work relocation: 12%
And according to Canstar Blue's research the best provider of self-storage in New Zealand is National Storage, the winner of our 2020 award for Most Satisfied Customers | Self-storage.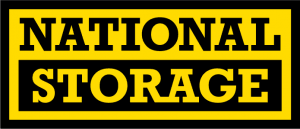 It's the second win for National Storage in the three years that Canstar Blue has been running the award. And it's a win that places National Storage well ahead of its competition, thanks to a clean sweep of 5 Star ratings across all categories, including:
Accessibility
Convenience of Location
Customer Service
Quality of Storage
Safety and Security
Value for Money
Self-storage: what to consider
Storage unit size
When weighing up your self-storage needs, the first question you need to ask yourself is how much space you need. In Canstar Blue's latest research 14% of people said they ended up paying for more space than they required.
Although we always underestimate the amount of space our possessions take up, you need to remember that when it comes to self-storage you need to visualise the whole volume, from floor to ceiling of your storage unit, and not just the floor space. This is because you should aim to pack in your possessions like a game of Tetris, if possible.
As a general rule of thumb:
Small self-storage unit: 4.5m² – enough room for the furnishings of a small bedsit
Medium self-storage unit: 6m²-7m² – enough room for the furnishings of a one-bedroom apartment
Large self-storage unit: 7.5m²-9m² – enough room for the furnishings of a two-bedroom home
Always thoroughly research the sizes of storage units available at your choice of provider and spend time working on an accurate estimation of your requirements. National Storage has a handy guide to help you work out the size of unit you require.
It's a good idea to ask your storage provider how easy it is to switch to a larger/small unit should your requirements change further down the line.
Duration of rental
According to Canstar Blue's latest research, most Kiwis hire their self-storage units for under six months:
| | |
| --- | --- |
| Time | % |
| < 1 month | 12% |
| 1-6 months | 35% |
| 6-12 months | 20% |
| >12 months | 28% |
Most storage units have one-month minimum storage periods. But if your plans are for the longer term, then it's worth asking if any discounts apply. Long-term storage often comes at a discount, especially if you pay upfront.
But regardless of how long you plan to stay, it's a good idea to check the notice period, so you don't end up paying for longer than you need.
Access
Self-storage facilities have different opening hours, so always check when you'll be able to get easy access to your stored goods. Some providers also have 24/7 access and on-site managers available 24-hours if you encounter a problem.
Security & insurance
Good security should cover general access to the facility and complete CCTV coverage. An extra level of security includes separate alarms on individual units.
However, just because a self-storage facility takes security precautions, don't assume that your goods are safe … or covered by insurance. Generally, home contents insurance policies don't cover your possessions if they are being stored away from your home. And self-storage companies don't automatically cover your goods on their premises.
So, if you're storing goods that have any kind of value, it's advisable to organise separate insurance for them, either through your insurer, or through a policy offered by the storage-unit owner. For more information on National Storage's optional insurance, click here.
Storage unit features
As we all know, NZ weather can be unpredictable, and humid. All storage units should be weather-tight, but if you're storing particularly delicate items, or possessions that could be adversely affected by high humidity – for example fabrics or artwork – it's worth looking into the availability of units offering climate or humidity control.
Other on-site facilities: to consider:
Power/wi-fi in the units
Will you be spending time in your unit for any reason and need access to power or wi-fi while you are there?
Forklifts, trailers and trolleys
If you're moving large heavy items, does the storage facility have a forklift and operator that you can access to do the grunt work for you? And does it provide a good selection of the other essential tools needed when you're lugging around large boxes, such as pallet jacks, trolleys, trucks and trailers?
Packing materials & bins
While packing materials are available to purchase from most storage companies, also consider any excess or used packing materials you might want to discard as rubbish. Often, the use of a unit's skip bins comes with a small fee.
And don't forget your padlock!
Self-storage means that you hold the key to your unit's padlock – which you must provide. Of course, you'll be able to purchase one from your self-storage provider, but if you've already got one going spare at home, you can BYO and save a few extra dollars!
For more information on National Storage's on-site facilities, click here, or to read more about their award win, click the big button below.
For the full results of our 2020 award for Most Satisfied Customers | Self-storage click here!
Enjoy reading this article?
You can like us on Facebook and get social, or sign up to receive more news like this straight to your inbox.
By subscribing you agree to the Canstar Privacy Policy