Apple isn't always the first to a market, but when it does arrive, Apple tends to do it in style. So is Apple's foray into the personal tracker market, with the Apple AirTag, the same? Canstar Blue breaks down everything you can expect from the Apple AirTag.
We've all found ourselves at our wit's end fumbling around the back of the couch for a lost set of keys. Frantically attempting to ferret them out as if from thin air. And we've all rifled through yesterday's jeans – or jacket, or hoodie, or did we wear trousers, not jeans yesterday? – in pursuit of a wayward wallet.
Key finders and personal trackers for your belongings are not new. For years there have been keyrings that beep and crude GPS location devices. But satellite location technology isn't accurate if your lost keys are close. And sound-based trackers are no good if you've left your wallet back at a restaurant.
But newer technology means a personal tracker has the potential to be a real lifesaver. And the Apple AirTag is such a device. Released in early 2021, the Apple AirTag joins the growing personal tracker market, offering a device Apple describes as "a really easy way to keep track of your stuff". Firmly ensconced in the Apple ecosystem of devices, the AirTag integrates a range of features that allows users to track down items both near and afar.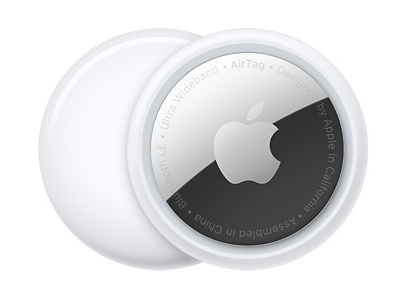 What is the Apple AirTag?
Apple's AirTag serves the singular purpose of helping you keep a handle on your valuables. It incorporates a number of different technologies to provide what Apple describes as "a comprehensive finding experience".
The AirTag is designed to slot into Apple's broader ecosystem of devices, acting as an accessory for users with a compatible:
iPhone or iPod touch

– running iOS 14.5 or later.
iPad

– running iPadOS 14.5 or later. 

It's also important to note that you'll need an Apple ID and to be signed in to your iCloud account to use the AirTag.
In terms of design, the AirTag is classic Apple. Whereas other companies have small, plastic trackers resembling a miniature alarm, the Apple AirTag features precision-etched polished stainless steel. It is small and lightweight, measuring 31.9mm in diameter (8mm wide), and weighs 11g. This allows for versatile placement, without ruining the look of your items.
In addition, it is IP67 water and dust-resistant. And, it even incorporates a built-in speaker, which plays sounds to help locate it (read on below for a rundown of how it works).
How does the AirTag work?
As mentioned above, to get the AirTag up and running, you'll need to pair it with a compatible iPhone, iPad or iPod touch. With a one-tap setup, it's simply a matter of bringing the AirTag close to your device to establish the connection.
Once you have done this, you can assign the AirTag to an item, for instance labelling it "keys" or "backpack", and it will appear in the new Items tab in Apple's Find My app.
The Find My app (designed to keep track of a range of Apple devices) is central to the AirTag experience, paving the way for users to locate an item's last known or current location on a map.
The AirTag's finding capabilities encompass:
Bluetooth range
If your misplaced item is close by, you can use the app to play a sound from the AirTag's built-in speaker to help you track it down. You also have the option of asking Siri to find the item, with the AirTag then playing a sound if it is nearby.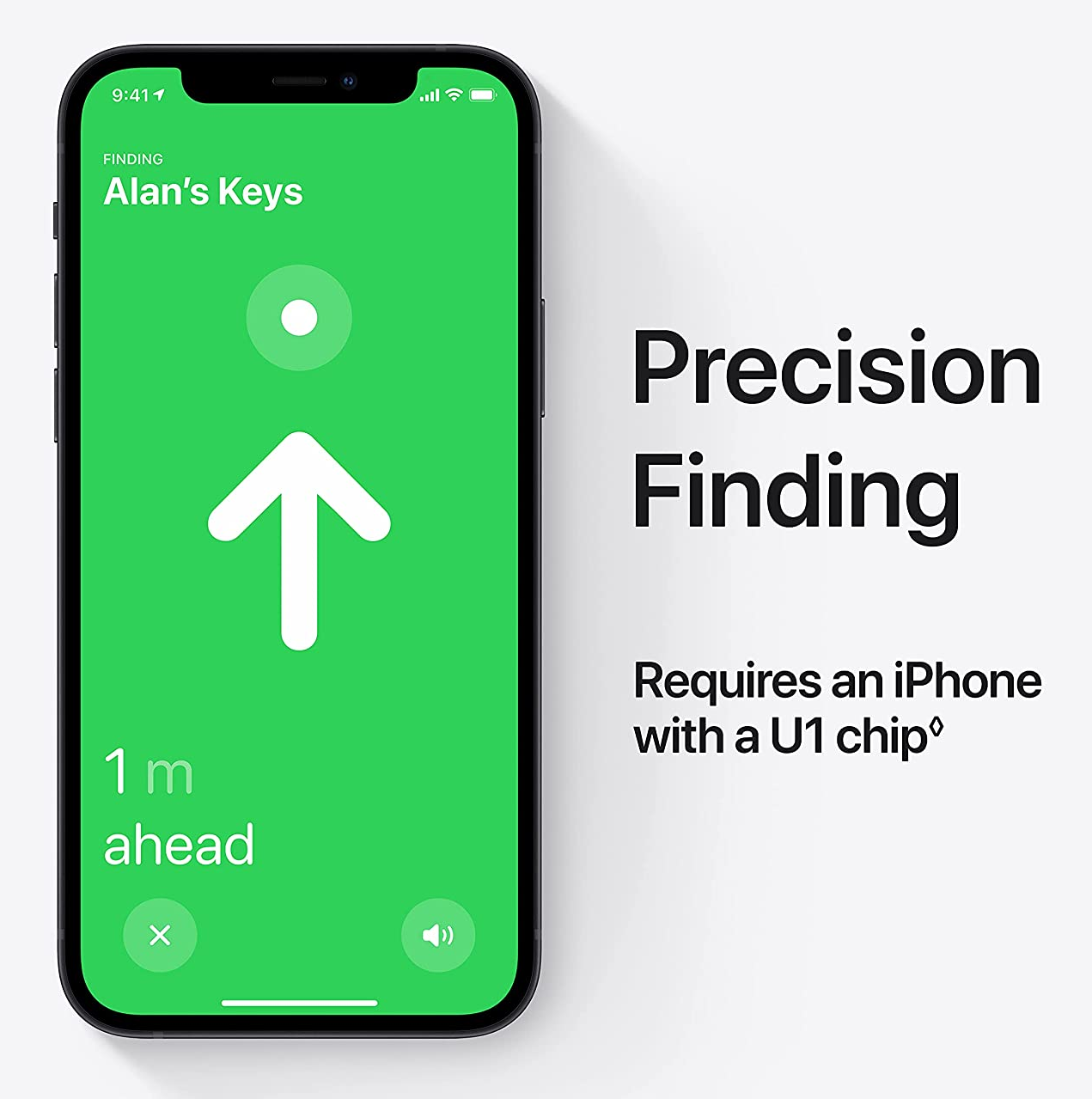 Precision finding
The ultra-wideband technology on the Apple AirTag allows users to more accurately determine the distance and direction to a lost AirTag. When within range (around 10 metres) Precision Finding accurately guides users to the item. The ultra-wideband technology provides incredibly accurate information (as accurate as just a couple centimetres), displaying an arrow that guides users straight to the lost item. While Apple AirTag works with the iPhone 6s or later, Precision Finding only works on the iPhone 11 and later.
Precision Finding on the AirTag differs from many other trackers, which only play sound and inform you when close to the item. The lack of directional help leaves you aimlessly walking around your lounge in circles. With Precision Finding, you are given accurate directions to lead you directly to the item itself. Along with the option for sounds and Siri directions to go with it.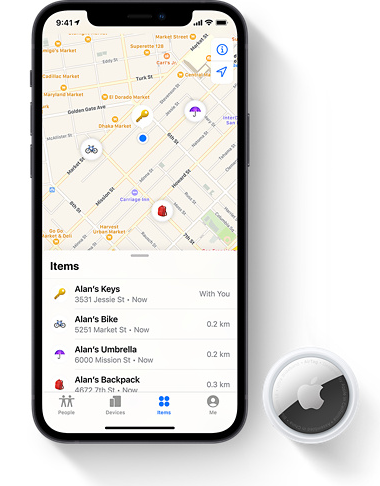 Find my network
Find my network is another amazing tech feature. If the AirTag is not within Bluetooth or ultra-wideband range, the Find My network (which Apple states is approaching a billion Apple devices) can detect Bluetooth signals from the device and relay the location back to its owner. This means you can open the Find My app, and track your item in real-time, anywhere in the world. This differs from most trackers, which only work within Bluetooth range and cannot locate items far away.
Every time an iPhone or iPad, or even iPod, comes within Bluetooth range of your AirTag, it connects and updates its location. All securely, anonymously, and without the owners even aware of it. This means you don't have to rely on a good Samaritan opening up an app and helping you search. Instead, you have a massive, anonymous, network of phones all working together to locate your items. In fact, if you have an iPhone yourself, you may have already helped people track their lost items. Without you even realising.
Additionally, if your item was stolen by an iPhone user, the thief's own iPhone would actually be tracking your item. They would essentially be helping you, from their very own pocket, without even knowing it!
Lost mode
Users also have the option of placing an AirTag in Lost Mode. With Lost Mode, you will be notified if you come into range of your lost item. Or, if it has been located by the Find My network. This is useful in perhaps more rural areas. Because while you can expect an item lost in Auckland CBD to be more or less constantly within Bluetooth range of an Apple device, and thus providing constant real-time updates, in more remote regions you may not have a comprehensive network of Apple devices.
In addition, if someone finds your AirTag, they can tap it using their iPhone (or any NFC-capable device), and will be taken to a website that will display your contact phone number (if you choose to provide one).
Apple AirTag: additional features
Apple states that the efficiency of the AirTag means "there's no need to worry about battery life or data usage". This is because it has the capacity to deliver over a year's worth of battery life with everyday use.
A removable cover is designed to make it easy for users to replace the battery (a CR2032 battery), with replacement batteries sold separately. 
In addition to this, the AirTag features:
Accessibility

– support for accessibility features built into iOS, encompassing: VoiceOver, Invert Colours, Larger Text and compatibility with braille displays
Privacy

– the AirTag does not physically store location data or location history. Communication with the Find My network is end-to-end encrypted, with only the device owner having access to its location data. No one, including Apple, knows the identity or location of any device that helped find it
Unwanted tracking

– if you end up with someone else's AirTag, your iPhone will detect its presence and send you an alert. After a while, if you haven't found it, it will start playing a sound to let you know it's there (alerts are only triggered when an AirTag is separated from its owner)
Accessories

– a range of accessories are available for the AirTag, including key rings, loops and secure holders
When you buy your AirTag, you also have the option of having it personalised with your initials, a selection of 31 emojis, or both (purchased from the Apple website or the Apple Store app).
Apple AirTag: pros and cons
Apple's AirTag serves the sole purpose of helping users keep track of and locate lost items. In this respect, weighing up what sort of value it will provide you should be a relatively simple process.
Chances are that if you're an Apple user, and considering buying a tracker, the AirTag is already on your radar. However, as looked at below, there is a range of options worthwhile considering.
The following are some of the AirTag's pros and cons:
Pros
Easy setup

– it's simply a matter of placing the AirTag near your compatible device and you're good to go

Removable battery

– you can easily remove the battery, with replacements widely available

Needs an Apple device

– it is specifically designed to work with Apple's ecosystem of devices and software, paving the way for seamless integration

Precision Finding and Find my Network – These features make tracking items nearby, and far away, much easier than many other trackers.
Cons
Additional accessory costs

– while you can use the AirTag on its own, accessories such as a key ring or loop will bump up the cost

No sharing

– you can't share an AirTag between two or more people (which could present an issue when using shared items such as keys)

Needs an Apple device

– if you're an Android user, you'll need to be looking elsewhere for a tracker

AirTag can't find your phone

–

sometimes you lose your phone, not your keys. Other trackers, such as Tile, have a button that can be used to locate your phone, even if it's on silent.
How much does the Apple AirTag cost?
The AirTag can be purchased in two configurations (including Apple's offer of a free personalised engraving):
1-pack – $55*

4-pack – $189*
Apple AirTag alternatives
As advised above, Android users need to consider other options when shopping for a tracker. Meanwhile, Apple users are certainly not limited in their choices, with a number of iOS-compatible third-party devices available. Apple has even announced its Find My technology will be third-party compatible. So other trackers will be able to track across the globe, like the AirTag. Previously, most third-party trackers were restricted to being able to track items nearby.
When shopping for a tracker, you need to weigh up whether you're simply after something to use around the house, or if you'll also be tracking items from afar, keeping in mind other features such as battery life and durability. 
The following are some other tracker options you might consider.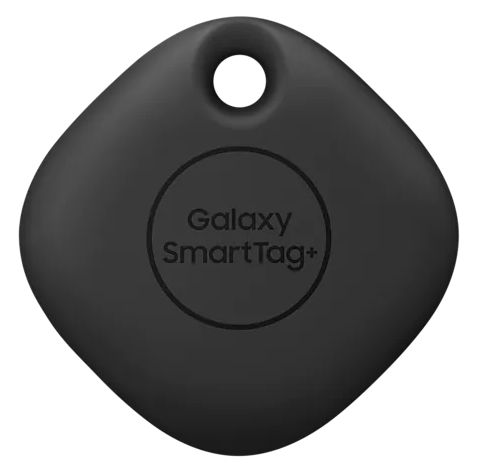 Samsung Galaxy SmartTag+
The Samsung Galaxy SmartTag+ is the AirTag for Android users. It provides many of the same features and is only compatible with Android devices. So for users looking for a true alternative to the AirTag, this is the closest you can get.
It incorporates a key hole, allowing for attachment to a range of devices. It has a Bluetooth range of up to 120m (without obstacles), and users are able to track it down by tapping the ring button on their mobile.
In addition, the Galaxy Find Network (only available with Galaxy devices) helps users to locate items out of Bluetooth range. Again, this is essentially Samsung's version of Apple's Find My network, and works in the same way, anonymously connecting your device to other Samsung phones.
The SmartTag+ integrates with Samsung's SmartThings app, and also includes AR Finding, providing users a visual way to locate a lost item, (like the AirTag's Precision Finding). It can also control various smart home IoT devices with a click of a button.
Dimensions

– 40.9 x 40.9 x 9.9mm; 14g

Battery

– maximum 165 days of battery life, replaceable CR2032

Compatibility

– Galaxy devices (smartphones, tablets) running Android 8 or higher; AR Finding requires Galaxy devices with ultra-wideband

Price –  available in black, the Samsung website lists the SmartTag+ as priced at $69*

Orbit Stick-On
As the name suggests, the Orbit Stick-On can be stuck onto your valuables (and also includes a key ring attachment). It provides up to 30m Bluetooth range, and displays its last seen GPS location on a map.
If an item has been misplaced, users can make the Orbit Stick-On ring using Orbit's free app. They also have the option of pressing a button on the Orbit Stick-On to make their phone ring, even on silent. Plus, it can be used as a selfie shooter, connecting to your phone's camera, allowing you to set up and take shots from a distance.
Dimensions

– diameter of 28mm (5mm thick); 10g

Battery

–  replaceable, life of up to nine months (comes with one extra battery)

Compatibility

– iPhone 4s and later; Android 5 and above

Price – available in black and silver, the Orbit Stick-On can be found online priced at around $31*

Tile Mate
The Tile Mate sports a keyhole, allowing for attachment to a range of devices. It provides up to 76m Bluetooth range, is IP67 water-resistant, and includes voice-assisted finding with Alexa, Google and Siri.
The free Tile app comes with a range of features, including: ring my Tile, find my phone, and most recent location (displayed on a map). In addition to this, if an item is out of your Bluetooth range, the Notify When Found feature draws on the wider Tile network to help locate it. Much like Apple's Find My network.
Premium subscription plans (incorporating a range of additional features) are also available.
Dimensions

– 37.8 x 37.8 x 7.1mm

Battery

– up to three-year non-replaceable battery

Compatibility

– works with most Android and iOS devices

Price – available in white, the Tile website lists the Tile Mate priced at $49.95*
*Prices are accurate at the time of writing and should be used as a guide only. Further information on pricing can be found at individual retailer websites. 
Find the phone plan that's right for you
While your phone tech matters, the phone plan you're on makes all the difference in getting the most out of your phone. If you are constantly running out of data or calling minutes, and having to top up with expensive bonuses, it's probably time to look at changing. At Canstar Blue we make it easy by comparing a range of phone plan providers. To get started, just click the button below:
Compare mobile plan providers with Canstar
---
About the author of this page

This report was written by Canstar author Martin Kovacs. Martin is a freelance writer with experience covering the business, consumer technology and utilities sectors. Martin has written about a wide range of topics across both print and digital publications, including the manner in which industry continues to adapt and evolve amid the rollout of new technologies
---
Enjoy reading this article?
You can like us on Facebook and get social, or sign up to receive more news like this straight to your inbox.
By subscribing you agree to the Canstar Privacy Policy