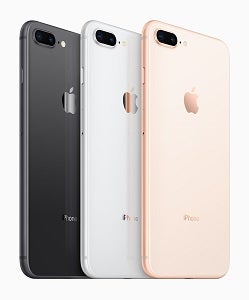 Apple announced its release of the new iPhone on 12 September (California time), and it's slated to be the biggest release since the original iPhone back in 2007. It's the tenth anniversary of the iPhone, and Apple has pulled out all stops to make this release an exclusive, exciting – and expensive – one. Apple announced the iPhone 8, iPhone 8 Plus and the iPhone X – pronounced 'ten', so let's get the skinny on what each phone has to offer.
iPhone 8 & iPhone X Prices in New Zealand
Both the iPhone 8 and iPhone X have been met with much hype. The X in particular has gone one further and has pushed the boundaries with how much a phone can actually do.
The iPhone X costs US$999, equating to over $1,300 NZD at the time of writing
Apply the 'New Zealand tax' and you can realistically expect to pay a bit more than what Americans are paying – Australians are paying $1,579 for the base model that has 64GB storage, and over $1,800 for the 256GB model
The iPhone 8 and 8 Plus start at AUD $1,079 and $1,229 respectively, and you can realistically expect similar prices in New Zealand
The X is the first iPhone to totally do away with a home button. Instead users will need to use a range of swipe and touch functions to navigate around their phone. The X will boast a 5.8" display, and employs facial recognition technology – labelled 'Face ID' – to unlock the phone, meaning using your sweaty fingerprint to unsuccessfully unlock your phone is a thing of the past.
All phones will boast wireless charging
Apple has implemented 'Qi' charging protocols on its new phones, meaning you'll now likely be able to successfully charge your phone on a variety of third-party chargers without ruining your phone.
A new charger is expected in 2018
As you can see, no matter what, you're probably looking at paying over NZD $1,000 outright for any of the three new iPhones, and closer to $2,000 for the top-of-the-range iPhone X. This may make it harder to justify buying outright for some people, and a plan from a phone provider may be more attractive.
iPhone 8 & iPhone X New Zealand Phone Plan Previews
The three key providers in New Zealand likely to offer iPhone 8 and X phone plans are Spark, 2Degrees and Vodafone. All three are premier providers in New Zealand, and all come with some exciting phone plans, so let's have a bit of fun and predict what all three are going to offer.
Spark NZ iPhone 8 and X Plan Preview
As one of the largest providers in New Zealand, Spark offers a large range of phone plans with some extra perks to see you through your month. While pricing information is scarce for the new iPhones, if iPhone 7 plans are anything to go by, you're probably looking at paying at least $100 every month.
24 month plans start at $99.99 a month, of which you get unlimited calls & texts to NZ and Aus, plus 7.5GB data.
'Open term' monthly plans start at about $40 with which you get 300 minutes, unlimited texts and 1GB data
Phone repayments for the iPhone 7 start at about $30 a month, and you may need to pay more for the new iPhones. Spark benefits from being a huge telco, and with most plans you get included Spark WiFi, a Spotify Premium subscription and Lightbox streaming included. While you are probably paying a fair bit with Spark, you evidently get quite a bit in return.
2Degrees iPhone 8 and X Plan Preview
With 2Degrees, the iPhone 7 plans start at $40, and this may indicate about what you can expect to pay with the next generation. This $40 plan comes with 2.5GB data, 400 call minutes and unlimited texts to both NZ and Australia. This of course doesn't include the phone repayment, which starts at about $50 a month over 24 months.
The iPhone 7 phone plan and repayment start at around $85 a month over 24 months, and you can expect to pay slightly higher prices for the iPhone 8 and X.
Note that most iPhone plans with 2Degrees attract a small upfront fee as well, so you may want to make room in the budget for that. This is a pretty penny to pay every month, but it may be more attractive than the upfront costs of the new iPhone.
Vodafone iPhone 8 and X Plan Preview
Vodafone is a global telco giant, and in NZ it's one of the most popular providers. While there isn't much information circulating around about plans for the iPhone 8 and X, you can probably expect Vodafone to be one of the first providers to release information.
Vodafone has done away with the 'phone + plan' on a 24 month contract. Instead you only pay for the phone repayment over 24 months, and choose a monthly 'Red' plan that you can change as you see fit.
Vodafone Red plans start at about $60 of which you will get 5GB data, and unlimited talk & text to both NZ and Aus.
iPhone 7 repayments start at about $45 a month, and you may have to budget more for the new iPhones
Vodafone is one of the dearer providers to offer iPhone plans, but you often get quite a bit of data in return, plus other perks like international calls, and the flexibility of choosing different Red plans.
What's the future for the iPhone?
With all this hype around the iPhone 8 and iPhone X – pronounced 'ten' – you probably can't help but wonder, "Where to from here?" If the newest iPhone is pronounced 'ten', where does that leave the iPhone 9? For a company where image, marketing and exclusivity are everything, labelling the next iPhone the 'iPhone 9' is probably going to be a step backwards. In any case, at Canstar Blue, we predict the next iPhone will be named something totally different.
As for phone plans, with outright phone costs broaching the NZD $2,000 mark, plans are arguably looking increasingly attractive. While you will be paying over $80 a month with most phone providers, paying $1,500 upfront for a phone is simply not feasible for some Kiwis. The three key providers Spark NZ, 2Degrees and Vodafone all offer pretty enticing phone plans, with each offering different perks like international calls, streaming, and music streaming. In any case, it never hurts to compare different providers, and compare them to open-term prepaid plans. The new iPhone series is arguably the most exciting yet, and it will be interesting to see what different New Zealand providers offer.