Author: Zac Kelly
In this guide, we cover the basics of switching from iPhone's iOS operating system to Android, and how to transfer your data to your new device.
Are you switching from an iPhone to an Android phone but don't know where to start? Switching from one operating system to a totally different one can be confusing, not to mention the tedious process of setting up a new phone and transferring your files across.
And that's all before you even adapt to using a device that operates differently than what you're used to. But it doesn't have to be so daunting.
---
How to Switch from iPhone to Android. In this guide we cover:
---
What is Android?
Android is the most widely adopted operating system found on smartphones. And it is owned by Google. It's an open-source operating system. This means phone manufacturers, such as Samsung, OPPO and LG, can freely use and modify Android to suit their devices. The open-source nature of Android also makes it widely customisable for the user, even more so than Apple's iOS.
iPhone vs Android: Should I switch from iOS to Android?
Ultimately, it comes down to preference and what you want in a phone. There is a greater range of Android phones, plus more customisation options for the user. If you're used to the feel of an iPhone, it might be worth sticking with Apple's series of devices. But Android will typically give you more control of your phone.
Do I need a new phone plan for my new Android phone?
While there's no need to change your phone plan when you get a new Android device, it might be the right time to assess whether your current plan is still working for you. If you compare phone plans from a range of providers — whether it's a prepaid plan or postpaid plan — you might find a better-value SIM-only phone plan than the one you're currently on. Keep in mind that if your new phone is a 5G phone, you might want to look at 5G phone plans, to get the most out of your device's features.
Considerations when switching from iPhone to Android
Switching from an iPhone to an Android phone is fairly simple, although there are a few key points that you should keep in mind before changing over to an Android device:
Contacts, photos and calendar events can be easily transferred from an iPhone to Android using the Google Drive app
You'll need to repurchase apps on the Google Play store, or other app stores, to use them on your new Android phone
Android devices need different charging cables to iPhones, so make sure you pick up a new cable
If you can wrap your head around these three points, you should be well on your way to becoming an Android user. Below, we go into more detail on changing from iOS to Android.
Keep in mind that if you're changing over to a Huawei device, you won't be able to install any Google apps, including Google Drive or the Google Play Store, as these apps are not available on Huawei devices.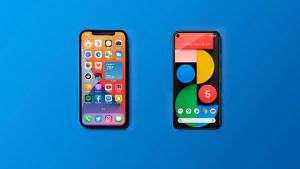 Tips on transferring data from an iPhone to an Android
Transferring your data from an iPhone to an Android device is possible — and painless! All you need to do is install the Google Drive app (Google account required), and follow the backup instructions. Backup information requires an internet connection and can be found by going Menu > Settings > Backup.
This backup allows you to copy photos, calendar events and contacts over to your new Android device. Just let the backup complete on your old phone, and then sign in to your Google account on your Android device.
You'll then get the option to install the backup information on your new phone. You might want to use this opportunity to clean up your photos, and delete any unwanted pictures from your camera roll!
Before you make the switch, you will need to disable iMessage on your iPhone, as you won't be able to receive iMessages on an Android phone. You can turn iMessage off by going Settings > Messages and switching the iMessage selection to the off position.
If you don't want to use Google Drive, you can transfer your contacts over using a manual export, provided you have iCloud synced with your iPhone. Simply log into iCloud.com and click the gear icon in the bottom left. Choose 'Select All', then click again and choose Export vCard. This will download a file which you can then import into Google contacts (a Web App offered by Google).
You can also transfer your photos manually — simply connect your iPhone to your computer and transfer all the photos you'd like to keep over into a folder on your computer.
Additionally, your new phone might have special features allowing for an easy transfer of data, although these features are typically different between Android brands.
Setting up your Android device for use
Once you're done transferring your contacts and photos, your next step is to set up your phone in the way you want to use it. Some Android phones offer features that might be hard to get used to, especially if you're coming from an iPhone. However, most Android phones are pretty easy to use, and there are some things you just need to get used to. Luckily, we have some tips on making things easier!
Enable gestures
If you're getting a new Android device, there's a good chance it will have a widescreen without any buttons on the screen. With this in mind, most Android devices give you the option between the traditional Android three-button layout (a home button, a back button, and a list button) and ̔gestures̕, a feature that iPhone users might prefer.
Gestures removes the buttons, and bases everything off swipes, much like the newer iPhones with a higher screen-to-body ratio. You can easily switch between buttons and gestures in the settings menu of your device so you can choose what works for you.
Customise your home screen to suit you
Android phones typically give you a lot of creativity when it comes to customising the home screen — allowing you to choose how many app icons you want per column, and how many pages of apps you want. This could be a big part of making your Android feel easier to use if you're switching from an iPhone. Just go into Settings and then look for Home Screen settings. Keep in mind that the location of this setting may differ between devices.
Install your essential apps
Next, you'll probably want to set up your most-used apps, so your new Android phone is as useful as your old iPhone. Make sure you set up your email app (Gmail, Exchange, etc), have your contacts set up and have all your essential apps installed — this might include YouTube, Instagram, Facebook, your banking app and any music or video streaming apps. Keep in mind that you can still use Apple Music on an Android device, simply download the app from the Google Play Store.
Swapping to the right phone charger
iPhones have unique lightning chargers, which are not found on any other phones. This means you'll need to purchase chargers specifically for your Android handset. With Androids, more common connections are used, typically either micro-USB cables or the more popular USB-C cables.
As of 2020, some phone manufacturers have also stopped including wall plugs in the box of new handsets, which means you'll have to purchase a power point charger separately. Just make sure you're getting the right charger for your device.
Switching from iPhone to Android: things to keep in mind
With all of the points covered in this article, you should be good to go with your new Android phone. Switching from iPhone to Android is incredibly easy, it just takes some time, organisation and navigating a new format of operating system. Remember that switching from iPhone iOS to Android OS is easy, you just need to get used to using a slightly different smartphone.
Compare monthly plan providers here!
Enjoy reading this article?
You can like us on Facebook and get social, or sign up to receive more news like this straight to your inbox.
By subscribing you agree to the Canstar Privacy Policy