Electric-powered bikes, commonly referred to as e-bikes, are proving to be an increasingly popular way to get around, allowing cyclists to manually cycle while also providing a battery-powered boost, making the ride easier.
E-bikes have emerged as an alternative means of transport, with the Energy Efficiency and Conservation Authority (EECA) noting via its Energywise website they could help reduce car use, describing e-bikes as "an increasingly popular option for low-emissions transport".
Energywise advises that consumers can purchase an e-bike to suit the type of riding they will do (such as terrain or distance riding), while existing bicycles can be fitted with a motor kit, stating that:
"The battery-powered electric motor makes cycling less of a challenge, providing a boost for hills, headwinds and carrying extra loads."
So, what do consumers keen to put their foot to the pedal and take to the streets on an e-bike need to know?
What is an e-bike?
An e-bike is a bicycle fitted with a battery-powered motor, allowing cyclists to pedal and also providing electric assistance via the motor, with these types of bicycles available in a variety of configurations.
As with a regular bicycle, cyclists control all facets of operation – from pedalling and steering to changing gears and braking – however, the extra power provided can be engaged when required, helping cyclists to potentially go further and faster.
This power is provided via pedal-assist (also known as a pedelec), with assistance automatically provided when the cyclist is pedalling, or a throttle, allowing the cyclist to engage the motor when required (such as via a twist throttle), with some models providing both options.
The NZ Transport Agency (NZTA) provides the following definition of a power-assisted cycle:
"A cycle to which is attached one or more auxiliary electric propulsion motors that have a combined maximum power output not exceeding 300 W. Also commonly known as an e-bike, or pedelec."
As noted by the NZTA, cycles designed to be primarily propelled by an engine rather than the muscular energy of the rider do not fall into the category of power-assisted cycles.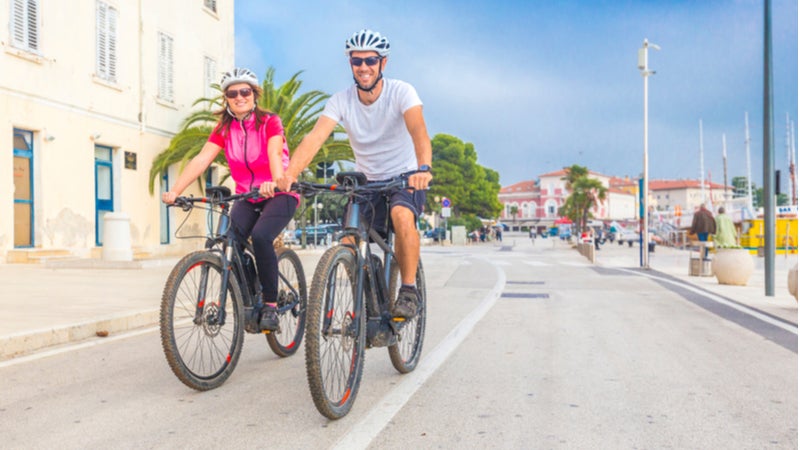 What to keep in mind when shopping for an e-bike?
It is certainly worthwhile shopping around for the right deal when it comes buying an e-bike and to approach the purchase as a long-term investment.
Consumers should keep in mind the sort of riding they will be doing, from city riding to off-road riding, and it is well worth trying out a number of models in determining what is best suited for your individual purposes.
It is worthwhile asking retailers what sort of distance a battery will provide between charges, how long it will take to charge the battery, the expected lifespan of the battery and how much a replacement will cost.
Of course, along with the specifications of individual e-bike models, consumers should also keep in mind what sort of a warranty is offered, and consider potential future maintenance requirements.
E-bikes can range dramatically in cost, from as little as $1,000 to over $10,000, and in line with their personal requirements, consumers will need to determine what price bracket will deliver value for money.
The NZTA advises that e-bikes are available in a variety of styles – from commuter to mountain bikes and cargo bikes – along with a range of features and top motor-assisted speeds.
In determining which e-bike to buy, the NZTA recommends:
E-bikes with a maximum speed cutting out at 25 km/h for those new to riding, or 32 km/h for experienced riders who spend most of their time on the road.
E-bikes providing power in proportion to the amount you pedal, which generally handle much more like a non-powered bike than throttle-operated e-bikes
E-bikes with a motor located in the middle or rear rather than the front wheel, with these e-bikes generally handling more like non-powered bikes.
For consumers shopping around for an e-bike, it may be worthwhile looking into some of the different options available to potentially reduce the upfront costs.
For instance, energy company Mercury has partnered with selected e-bike retailers to offer a range of discounts to its customers.
In August of this year, the NZTA, in partnership with the Sustainable Business Network, launched an e-bike purchase support guide aimed at helping employers to make it easier for their staff to buy e-bikes.
The guide provides private businesses and organisations with information on employer e-bike purchase support schemes, via which employers negotiate a discount from a supplier and then use a financing arrangement to reduce the upfront cost of the purchase.
Time to get on your e-bike
As with a regular bicycle, it is worthwhile taking the time to become accustomed to riding an e-bike and to get used to the various controls.
The NZTA states of e-bikes that they "are typically heavier than regular bikes, which means they handle differently", recommending that cyclists start somewhere with a bit of space and have a go at:
Adjusting the power settings.
Testing how the e-bike responds when stopping and starting.
Turning, balancing and negotiating obstacles with different power-assist levels.
If the motor is in the front wheel and the bike has a throttle, go gently when cornering.
When out and about on an e-bike, the NZTA recommends:
Safety – with cyclists likely travelling at higher speeds than a regular bike extra caution should be taken, including scanning well ahead, signalling movements, and keeping an eye out for cars turning in and out of driveways and side roads.
Power-assist – as e-bikes are heavier, make sure you have changed down to a low gear when taking off at an intersection or up-hill, with pedal-assist usually kicking in on the second pedal rotation, meaning that if the e-bike is in a high or faster gear there will be a surge in power, taking off quickly, with cyclists needing to allow for this.
Passing cyclists – look behind for traffic and signal before pulling out, providing sufficient space when passing and alerting other people by calling out or ringing your bell.
Shared paths – put your e-bike in a low power setting and cycle at a speed consistent with other users.
Battery – battery range can be extended over long distances by using lower power settings and pedalling more.
When it comes to charging an e-bike, Energywise advises:
Fully charging a typical 400 Wh battery would cost around 13 cents, providing a boost for around 40 km of travel (assuming 80 per cent efficient charging, consuming 0.5 kWh at a price of $0.26 per kWh).
By way of comparison, running a clothes dryer for 10-15 minutes also costs about 13 cents.
Based on these figures, cycling 20 km five days a week for a year would cost less than $20.
Image credits: moreimages/Shutterstock.com, Eshma/Shutterstock.com