Nespresso strong in NZ Blue review
With machines ranging from $189 – $999, Nespresso once again take top spot and the Canstar Blue Most Satisfied Customers Award.
For coffee lovers who crave that café flavour without the queues or price tag, investing in their very own coffee maker can feel like the best of both worlds.  Amazingly, 27% of Kiwis go as far to say they prefer the coffee they make in the comfort of their own kitchen to the café bought alternative.
Although there is obviously the upfront cost of the machine itself (mean spend is around $393), just under half of coffee machine owners use their machine every day and 41% of people said that as a result of buying a coffee machine, they spent less money outside of home.  While it's great to hear that these machines are not simply expensive ornaments sitting on the kitchen bench, 8% of people did admit to seeing their machine as a status symbol.  Bet you don't get that with a jar of instant!
Interestingly, men are likely to spend a lot more than women on their machines, $499 compared to $351, but only 38% of our male respondents said they were spending less money outside of home since they bought their machine.  Status was also marginally more important for males (9%) than females (7%)
Should you recycle coffee capsules?
In a word, yes.
Our research shows that people spend in the region of $39 per month on capsules or pods or but unfortunately a quarter of coffee drinkers didn't recycle their used pods because they said it's too hard.
Although there are no figures available for the number of pods that are disposed of annually in New Zealand, it's estimated that on a global scale, tens of billions of used pods and capsules end up in landfill every year.  Because the pods are made from aluminium and plastic, it can take up to 500 years for them to break down.  Such is the concern of the environmental impacts from making coffee in this way that in 2016 Hamburg, Germany became the first city in the world to ban the use of pod machines in all state owned buildings.   It's not all doom and gloom though.  To encourage customers to think about, and reduce, the environmental impact, Canstar Blue's 2017 Customer Satisfaction Award winner, Nespresso, offer a recycling service across the country with over 350 different locations for customers to deposit used Nespresso capsules.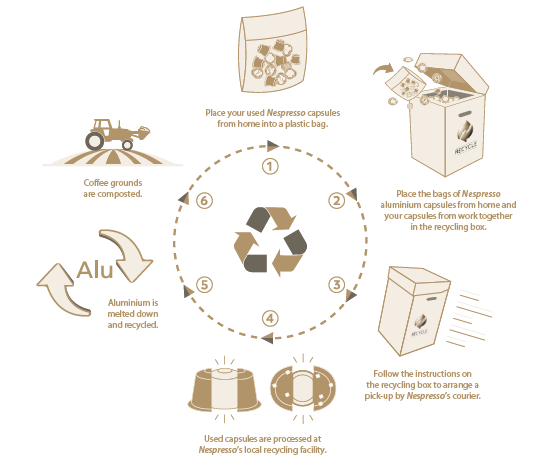 Source: Nespresso.com/nz
Types of coffee machines
Pod machines such as Nespresso have burst onto the market in recent years and are incredibly popular, but this doesn't mean they are the only way to make your home brewed coffee.  For the real coffee aficionados there are manual machines that use coffee beans instead of capsules and give you complete control over blends and brewing, letting you make your coffee just the way you like it.  What's more, the only waste you have are the used coffee grinds which make a great fertilizer for your garden or pot plants.
If you don't want to go all out, an automatic machine might suit you better.  These machines offer the best of both worlds and meet halfway between the ease-of-use of capsule machines, and the quality of manual machines. Automatic coffee machines also use coffee beans, and can create a wide range of pre-programmed coffees with a press of a button.
What drives espresso machine satisfaction?
There are plenty of things to consider when buying a new coffee machine and if you're still undecided, here's what our survey found to be the greatest drivers of satisfaction with coffee machines:
Reliability 26%
Value for money 21%
Ease of use 18%
Design 18%
Ease of cleaning / maintenance 17%