Metlifecare wins Canstar Blue's award for Customer Satisfaction | Retirement Villages.
Metlifecare is leading the pack when it comes to customer satisfaction, according to Canstar Blue's latest research. The retirement village provider received across the board 5-star ratings, claiming Canstar's latest award.

Metlifecare | the customers choice
For this year's award, we asked the opinions of over 300 New Zealanders who are currently in, or paying for someone in, retirement villages across New Zealand. 
As part of our research, Canstar Blue compared Metlifecare, Arvida Retirement Villages, Bupa Care and Ryan Healthcare to discover the country's favourite retirement village provider.
And coming out on top is Metlifecare! The clear winner of Canstar Blue's inaugural award for Most Satisfied Customers | Retirement Villages. 
To decide which retirement village offers the best level of customer satisfaction, each was rated across the following categories:
        Overall Satisfaction

        Accommodation

        Atmosphere
        Facilities

        Location

        Value for Money
In each category, Metlifecare scores our top 5-Star rating, including for Overall Satisfaction. While Arvida Retirement Villages and Bupa Care both earn admirable 4-Star ratings for Overall Satisfaction, Arvida deserves extra praise for winning a clean sweep of 4-Stars in all categories.

Why choose Metlifecare?
Metlifecare offers 26 distinctive villages across the country. Each of these villages has its own features and unique character, and residents have a choice of accommodation style, to meet their needs. And, importantly, there are no fees for transferring from an independent living unit to a serviced apartment. The variety of care options clearly resonate with residents, and include:
Villas and apartments                  

Metlifecare's Gulf Rise retirement village

Serviced apartments

Care homes
So whatever your needs, this year's winner of our Customer Satisfaction | Retirement Villages award, Metlifecare, is sure to offer the perfect retirement lifestyle for you or your loved ones.
Retirement living in New Zealand
You get older by the day, and New Zealand's population is no different.
Fifty years ago, just 8% of NZ's population was 65 or older. In the last 50 years, however, that's doubled, up to 16%. And this growth is set to continue. By 2036, around 22% of the population will be aged 65 or older. And by 2056, it's expected to hit 25%, with around 12% of seniors still in paid employment.
As Kiwis are enjoying the benefits of longer, healthier lives, more are looking forward to spending their golden years relaxing in a retirement village. Retirement villages offer a great range of amenities and care, so it's no surprise that they're a popular choice. 14% of kiwis aged 65 and over are already enjoying the luxuries retirement villages offer. 
And as our population continues to age, our options for retirement care continues to grow. 
According to the latest figures from real estate firm JLL, there are 422 retirement villages in NZ, over 36,000 units, and an estimated 47,000 residents. That's a growth in villages of 23%, and in units of 67% over the past decade!
Cost of care a cause for concern
While there is a lot to love about retirement villages, our research does show that costs are weighing on Kiwis' minds. 30% of respondents say value for money is their number one concern, and 42% of us believe retirement care is too expensive. Tellingly, nearly a third of us worry about the cost of care eating into our inheritance!
If getting value for your money and great quality care is what you are looking for in a retirement village, Metlifecare should be your go-to, with the provider receiving a 5-star value for money rating.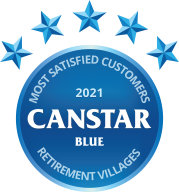 Switch to Metlifecare
As the winner of Canstar Blue's Most Satisfied Customers | Retirement Villages award, Metlifecare is obviously a hit with its residents. So if you're looking to make life's next big move, why not join them?
Over 5600 residents already call a Metlifecare village their home. Canstar Blue's seal of approval means you'll be able to enjoy a retirement with satisfaction and value guaranteed.
Read more about Canstar's Most Satisfied Customer Award here
Enjoy reading this article?
You can like us on Facebook and get social, or sign up to receive more news like this straight to your inbox.
By subscribing you agree to the Canstar Privacy Policy