Stirling Sports has been awarded Canstar Blue's Most Satisfied Customers Award – Sports Equipment Retailers.
As Kiwis, we tend to pride ourselves on our sporting prowess: it's viewed as part of our national identity. Whether we're throwing a rugby ball in the backyard, warming up a bowling arm for a cricket match or pulling on sneakers for a run on the beach, many New Zealanders enjoy an active lifestyle.
The popularity of sport in New Zealand is rooted in our outdoorsy lifestyle and healthy work-life balance. It's relatively easy to do sports training in New Zealand, with plenty of options available, from school sports, plenty of clubs, gyms and the outdoors on our doorstep.
But an active lifestyle comes with a need for sporting equipment. As part of its mission to help guide Kiwi consumers, Canstar Blue canvassed the opinions of people who had purchased a product from a sports equipment retailer during the past 12 months. Of the different stores they had visited, the overwhelming majority of respondents had shopped at just two main stores: Stirling Sports and Rebel Sports.

To decide which provided the best level of customer satisfaction, each was rated across the following categories: Customer Service, Layout of Store, Range, Relative Price, Value for Money and Overall Satisfaction. Coming out on top and winning Canstar Blue's award for Most Satisfied Customers | Sports Equipment Retailers was Stirling Sports, which earned Five Stars for Overall Satisfaction, Customer Service and Layout of Store, and Four Stars for Range of Products.
Second was Rebel Sport, which won Five Stars for Range of Products, and Four Stars for Overall Satisfaction, Layout of Store, Price Compared to Other Retailers and Value for Money.
What do Kiwis want in a sports retailer?
While value for money is always a top consideration for consumers, in Canstar's research Customer Service was the top driver of customer satisfaction, at 30%. It's a result that shows we like a bit of customer interaction and guidance while seeking out our next pair of sports shoes or equipment. Overall, the other main factors driving our respondents' positive retail experiences were Value for Money and Range of Products.
We know what we want
Of our survey's respondents, 43% said they research their sports equipment purchases thoroughly online before visiting a store. That's not surprising considering all the brands, styles and makes of sports goods you need to trawl through to find what you want; 22% were also prepared to pay more for equipment from the big brands, and 23% felt that the best sporting performance requires the best equipment.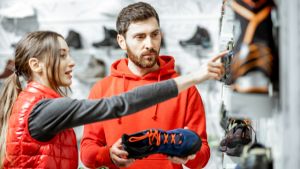 Fashion isn't our biggest priority
In other findings from our survey, it's interesting to note fashion was not a main consideration for our respondents. Only 9% said that it was important for them to have the latest sportswear styles. We do love a deal though: a whopping 70% said they like to wait for sales to bag a bargain. Residents from Nelson loved a deal the most, sitting at 88%, and Gisborne followed closely behind at 83%.
Some of us stick to what we know
Of our respondents, 30% said they usually buy the same brand of sports equipment when they make a purchase from a sports retailer – 50% agreed with this in Hawkes Bay, 37% in the Bay of Plenty, while only 10% of respondents in Taranaki said they were brand loyal.
Compare sports retailers and read the full findings with Canstar by hitting the button below:
Compare sporting retailers for free with Canstar!
Enjoy reading this article?
Sign up to receive more news like this straight to your inbox.
By subscribing you agree to the Canstar Privacy Policy