Pack your bags, House of Travel has won Canstar Blue's Most Satisfied Customers Award – Travel Agents 2020
It's the tail end of summer, everybody is back at work, and the days are getting noticeably shorter. What is there to keep the encroaching chill at bay? Yes, the thought of heading off on holiday. Global pandemics notwithstanding, there's nothing better than the promise of an upcoming getaway to provide motivation over the winter months.

This year, if you're looking for a travel agent to help plan your trip, Canstar can recommend House of Travel, the winner of Canstar Blue's Most Satisfied Customers Award – Travel Agents 2020.
To research our award, which aims to help Kiwis choose which travel agents offer the best all-round customer service, Canstar Blue surveyed 933 Kiwis to hear their views.
We asked those who had used a travel agency to book a trip within the last two years to rate that agency on communication and advice, friendliness of agent, level of knowledge, price of trip and overall satisfaction.
Travel agent House of Travel set the bar high, and took the ratings to new heights, gaining 5 stars in every category. Helloworld Travel followed with 5 stars for price of trip and friendliness of agent, earning 4 stars for the remaining factors. Flight Centre was recognised with 4 stars across the board, while STA Travel and AA Traveller both earned consistent 3 stars.
As flights and hotels can be booked online simply, Canstar also asked why so many New Zealanders use the services of a travel agent. Over half of our survey respondents (53%) said they preferred booking in-store, face-to-face.
And the reason travel agents are held in high esteem? Their insider knowledge of destinations and transport options, and their ability to secure the best price deals: 48% of respondents said they use a travel agent to get different ideas and travel inspiration, while 52% said they use one to secure a better price.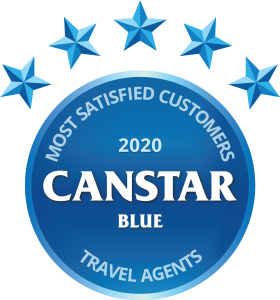 Destination Unknown
Overall, when it comes to holidays, Kiwis prefer to explore new places. Of our survey's respondents, 67% said they prefer visiting somewhere they've never been before, with Europe the No.1 favourite holiday destination, securing 28% of votes. This was followed by: Asia (18%), Australia (16%), USA/Canada (12%) and the Pacific Islands (11%).
The results – placing cultural Europe ahead of the beaches and crystal-clear waters of the Pacific – are reflected by what our respondents said they wanted from their vacation time.
While 27% said taking a holiday was about relaxing (just beating visiting family, at 25%), a whopping 40% of respondents said the main reason for travel was to take in the sights.
But whatever your destination, and whatever the purpose of your next holiday, if you're planning a getaway, either here at home in NZ, or overseas, if you choose to book with House of Travel, you can be assured of Canstar's 5-star seal of approval!