The bubble doesn't burst for Morning Fresh
For the second year running, Morning Fresh has taken the Canstar Blue customer satisfaction award, but washing dishes isn't everyone's idea of fun!
For 22% of us, we'll put off hand washing dishes until the next day, but 21% of Kiwis, prefer to wash dishes themselves, instead of sticking their dirty plates in the dishwasher.  Let's hope these people don't all live in the same house or that's a recipe for domestic disaster!
To help you decide the liquid that's right for you, we recently asked 2,229
New Zealanders what they liked about their dishwashing liquid.  After all, it's not like you can 'try before you buy'.  So without further ado, the most valued qualities are…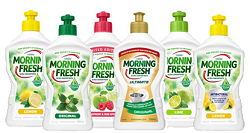 Ease of use – When your hands are already wet and slippery, you don't want to have to fight with a bottle just to get the top off.  You also want to make sure that the cap fits easily and snuggly as clearing up a washing up liquid spillage is no easy task!
Our Most Satisfied Customer Award winners, Morning Fresh, scored a maximum five stars in this category along with Ecostore.  All other brands scored a respectable four stars with the exception of Countdown Select that scored three. Effectiveness – You hand wash your nice wine glasses only to find that once they've dried you can still see greasy finger marks. Worse still, you can't chip last night's left overs off the plate even after a good soak!  Turns out this irritation is one we all share and that's probably why effectiveness is one of the qualities we value most.
Morning Fresh was the only brand to score a maximum five stars, with all other brands scoring four stars apart from Budget and Countdown Select who scored three.
Value for money – what we expect from our liquid and how much we are prepared to pay while still thinking it's 'reasonable value', is very much personal choice.  However, the consumers we questioned rated both Morning Fresh and Countdown Homebrand a maximum five stars while all other brands received four stars.  Exceptions were Ecostore, Countdown Select and Finish who were rated as three stars for value for money.
Scent – Again, this one is very much down to personal preference and there's so much to choose from!
Morning Fresh was awarded five stars here, with most other brands scoring four stars.  The Countdown brands and Budget scored three stars.
Environmental friendliness – This is the one that really split the field.  For some people, concerns over what's in their dishwashing liquid (and subsequently gets flushed into our water systems), is a big worry.  For 29% of the people we surveyed, buying an environmentally friendly dishwashing liquid is their preference so it's no surprise that Ecostore and Earthwise were top scorers here.  Morning Fresh, Sunlight, Down to Earth, Pams and Finish each gained four stars with Palmolive, Countdown brands and Finish receiving three stars.
So what is in dishwashing liquids?
Although all the different brands are there to do the same job, remember that different products can use different ingredients, but to give you a brief idea, the basic components of dishwashing liquid (excluding water) include:
Surfactants
A surfactant is a generic term given to the type of chemical responsible for foaming and removing grease and grime. There are usually several surfactants in dishwashing liquid selected for their low skin irritation properties.
Thickeners
Dishwashing liquid is manually thickened using a number of salts, alcohols and sulphates. These chemicals also help to ensure consistency and gel clarity.
Additives
Dishwashing liquids are made as attractive as possible by adding fragrances and dyes to make them look and smell great. Depending on the type of dishwashing liquid there are a number of other ingredients that may be included, such as preservatives, antibacterial acids or fruit and oil extracts.
Like with any product you buy, it's a good idea to check the label before purchasing, just in case the ingredients include anything that doesn't sit too well with you.