Hoping to give your home a fresh lick of paint? Canstar Blue's 2021 House Paint award rates major house paint brands across the country so you can discover Kiwis' top pick.
If you've ever spent hours in the sun painting your home, you'll know the feeling of satisfaction that comes with finally putting down the brush, stepping back and admiring the result. Yes, you could pay someone else to decorate your home for you, but where's the fun in that? DIY is in Kiwis' DNA.

On paying a visit to the hardware store, you'll likely be surprised at the sheer array of paints available. Comparing paints and knowing who to pick and trust can prove daunting. But luckily, Canstar Blue has canvassed the opinions of Kiwis who have been in this exact position, to help guide your paint picking decision.
We asked them about the paint they most recently used, to get their feedback on a range of crucial factors, such as its quality, durability, and its ease of application. The idea is to give you as much information as possible about the paint brands on offer, so you know which are worth purchasing for your next big DIY job. Each was rated across the following categories:
Overall Satisfaction

Value for Money

Ease of Application

Durability

Range of Finishes

Quality of Finish (includes Coverage)
Taking top spot is Resene, scoring 5-Star ratings for Overall Satisfaction, Durability, Range of Finishes and Quality of Finish. Last year's winner, PPG, also earns impressive 5-Star ratings, for Value for Money and Ease of Application.

What to look for in a house paint
So, what is it that consumers look for when they buy house paint? Our research identified the following main drivers of customer satisfaction once the job is done:
Value for Money: 26%

Ease of Application: 20%

Durability: 20%

Range of Finishes: 20%

Quality of Finish (includes Coverage): 14%
Value for money is first and foremost when it comes to paint. And, of course, it's always worthwhile testing out your colour scheme on a small patch in your home, before investing in large tins. Of those in our survey, over half (55.7%) say they use tester pots.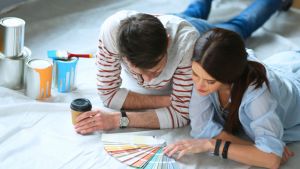 Why New Zealanders paint their homes themselves  
There are a couple of reasons why Kiwis choose to DIY painting their homes. The top reason is that it's cheaper than hiring a professional (84.3%). However 49.1% say they actually enjoy it. And for 22.9%, they say they're better at it than someone else in their home! Fair enough, as no one wants a sloppy paint job.
How often should you paint your home's exterior?
A well-executed fresh paint job beautifies a home, both inside and out. And, importantly, exterior paint is a primary protection agent for your home. It will defend it against weather, insects and birds. There isn't a set time frame for when to repaint your home, experts say. It's more important to continuously assess the condition of your paint, looking for chips, cracking, peeling and flaking.
Of those in Canstar Blue's survey, 35.4% say they paint their home's exterior once every 10 years; 28.9% say they buy new brushes each time, instead of using old ones, and 72.2% do the required prep work before painting. Kiwis don't like cutting corners, only 8.4% admit to doing so to save time.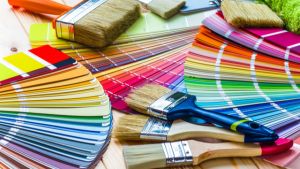 What the experts say
The experts at Resene say a quality three-coat acrylic system can be expected to perform on timber weatherboards for seven to 10 years. An oil-based or alkyd system may only last four to six years. These numbers reduce to five to seven years and one to five years, respectively, on window sills and other slanted surfaces with greater exposure to damaging ultraviolet light from the sun.
They remind Kiwis that it's key houses are washed each year to maintain the appearance of paint finishes, and to remove any build up of salt deposits, bird droppings, mould and other contaminants that can interact with surface coatings. 
NZ paints are different 
As an island nation our climate is dominated by our proximity to the sea. Even Palmerston North has a harsh environment because of prevailing winds. Paint designed for use in New Zealand should always take into account our marine environment and high levels of ultraviolet exposure. 
What to look for before you paint your home
A couple of key tips from Resene when preparing a surface for repainting:
Is there any moss or mould present? A quick wash with water will not remove spores or small particles, a chemical treatment is required. Moulds can regrow underneath new paint films popping them off the surface.

Is the surface chalky or dirty? Proper cleaning involves both washing and rinsing. Cleaning solutions bind up dirt and small particles so that they are washed away from the surface, rather than just moved around.

Are there old sealants and puttys? Failed sealants and puttys should be removed and replaced with new materials. Adhesion tests should be carried out on any previously painted areas.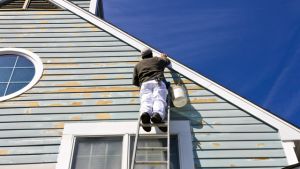 Painting your home can be hard work, but it can also be enjoyable, with the quality of paint you use likely playing a key role. Enjoy your next DIY adventure! Compare paints across NZ by hitting the button below:
Enjoy reading this article?
You can like us on Facebook and get social, or sign up to receive more news like this straight to your inbox.
By subscribing you agree to the Canstar Privacy Policy