The Rugby World Cup is arguably the most important sporting event for New Zealanders. The 2019 tournament in Japan from September to November will see the All Blacks defend the Webb Ellis Cup for an unprecedented third time in a row. While All Blacks and potential players have kicked off their rugby season, many Kiwis behind the scenes are wondering how they are going to watch the tournament. This year, the event will be streamed on the internet for the first time in New Zealand, after Spark and TVNZ won the broadcasting rights in a joint bid, stealing the ball off former holder SKY TV.
So, what will watching the Rugby World Cup be like for New Zealand fans this year? Will special devices or connections be needed? Will there be costs? Canstar Blue investigates for fans:
Spark Sport kicks off
All 42 2019 Rugby World Cup matches will be available live and on-demand through Spark Sport, a new streaming service set to bring top global sport to New Zealand. As well as the Rugby World Cup, Spark Sport will also stream F1, English Premier League football (from August 2019), Manchester United TV, Heineken Cup, the FIH Hockey Pro League, NBA TV and the FIA World Rally Championship.
Spark Sport is set to launch in Beta in March, giving a chance to test the technology before demand peaks. During this time, Kiwis will be able to sign up for a month's free trial. Fans are being encouraged to register their interest now, before the launch.
The good news for Rugby World Cup fans is that they will not have to sign up to Spark Sport for a fixed term to watch the tournament, nor will they have to be Spark customers.
What devices are needed to watch the Rugby World Cup?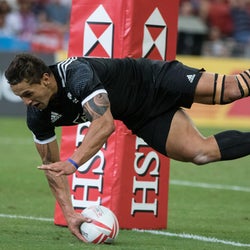 The Spark Sport app will be available through popular web browsers, Apple iPhone and iPads, Apple AirPlay, Android phones and tablets, and Google Chromecast from launch. The app will be available from the relevant app store.
For the two-thirds of homes who do not have access to an internet-connected TV device, they will be able to watch on their PC, laptop, smart phone or tablet. However, connecting to a big screen TV is easy, with Google Chromecast being a quick, affordable option (see Canstar Blue's article How to connect a 'dumb' TV set).
Disappointingly for those with a Smart TV or Apple TV, these devices will not be able to play the Spark Sport app straight away. However, Spark Sport says its app will be available on Samsung TVs shortly after launch, expanding to platforms like Apple TV, and Panasonic, LG and Sony Smart TVs over the first six months. Hopefully for fans with these platforms, this will be done in time for the big tournament.
Fans will be able to switch between devices. Spark Sport promises full details on device support and how to get connected will be available from a comprehensive help website.
What quality can I watch the games in?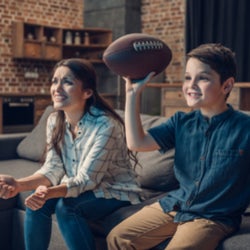 Spark Sport will be available in High Definition (HD), but fans will need to have the device and internet connection to support HD. Virtually every home in New Zealand has an HD-capable TV set but internet connection speeds vary.
Spark Sport will automatically adjust the quality of your stream to fit your connection speed, so the quality of the video you're watching will depend on the quality of your internet connection.
Getting the best broadband speed involves three steps: 1. Get the best connection available – fibre, if that is available where you live. 2. Have the best set-up in your home, including a modern modem, fit-for-purpose Wi-Fi, up-to-date devices and software, and good wiring. 3. Get the best broadband provider and plan for you, including enough data to cover your streaming demands.
How much will it cost to watch the Rugby World Cup?
Spark Sport has set the recommended retail price for its app at $19.99 a month, with discounts likely for Spark customers. However, pricing and package details for the Rugby World Cup will not be announced until April, suggesting the tournament will cost more. In April 2018, Spark managing director Simon Moutter said it would cost fans around $100 for the whole tournament, with the option to watch individual games for a smaller fee.
Can I watch any Rugby World Cup games for free in 2019?
If you are a big rugby fan but do not want to fork out for an app – fear not! Spark's bidding partnership with TVNZ ensures there will be some games broadcast free-to-air. This includes the opening match between Japan and Russia on Friday, 20 September and the final on Saturday, 2 November. Further matches are to be announced but a total of nine games will be free-to-air. This is the same number of matches that were broadcast in 2015, when SKY TV had broadcasting rights.
TVNZ's coverage will be focused exclusively on broadcast TV – its live stream will be turned off when it screens any matches, to avoid duplication with Spark Sport.
Key dates in 2019 for New Zealand Rugby World Cup fans:
March: Spark Sport app launches
April: Spark Sport announces prices and packages for the Rugby World Cup
Friday 20 September: The first Rugby World Cup match, Japan Vs Russia. Kick-off is 10.45pm New Zealand Time (NZT).
Saturday 21 September: The All Blacks' first game: New Zealand vs South Africa. Kick-off 9.45pm NZT.
Wednesday 2 October: New Zealand vs Canada. Kick-off 11.15pm NZT.
Sunday 6 October: New Zealand vs Namibia. Kick-off 5.45pm NZT.
Saturday 12 October: New Zealand vs Italy. Kick-off 5.45pm NZT.
Saturday 19 October: Quarter-final 2: Winner pool B (the All Blacks' pool) vs runner-up pool A (likely to be Scotland or Japan). Kick-off 11.15pm NZT.
Sunday 20 October: Quarter-final 4: Runner-up pool B (if the All Blacks don't finish on top) vs winner pool A (likely to be Ireland). Kick-off 11.15pm NZT.
Saturday 26 October: Semi-final 1 (if the All Blacks win their pool and their quarter-final, they will play this match, most likely against England). Kick-off 9pm NZT.
Sunday 27 October: Semi-final 2 (if the All Blacks come second in their pool then win their quarter-final, they will play this match, most likely against Australia). Kick-off 10pm NZT.
Friday 1 November: Bronze final (just for interest). Kick-off 10pm NZT.
Saturday 2 November: Grand Final. Kick-off 10pm NZT.s
Picture credits: Marco Iacobucci EPP/Shutterstock.com, Mai Groves/Shutterstock.com, LightField Studios/Shutterstock.com